Been cranking out work on Aleph and getting closer to a test demo release for Kickstarter backers. I realize that I said that a playable test version would be ready "soon" in the last update, but I admit that the necessary fixes are taking a bit longer than expected due to unforeseen circumstances. However, we are still plodding on and getting the game into a state where it is fully playable beginning to end.

Whilst the code is being worked on and the bugs being squashed, I have been endeavoring to make the appearance of the menus nicer, and thus far am pretty pleased with how they are shaping up. Here is a look at the revised Main Menu (still some work left to do on it):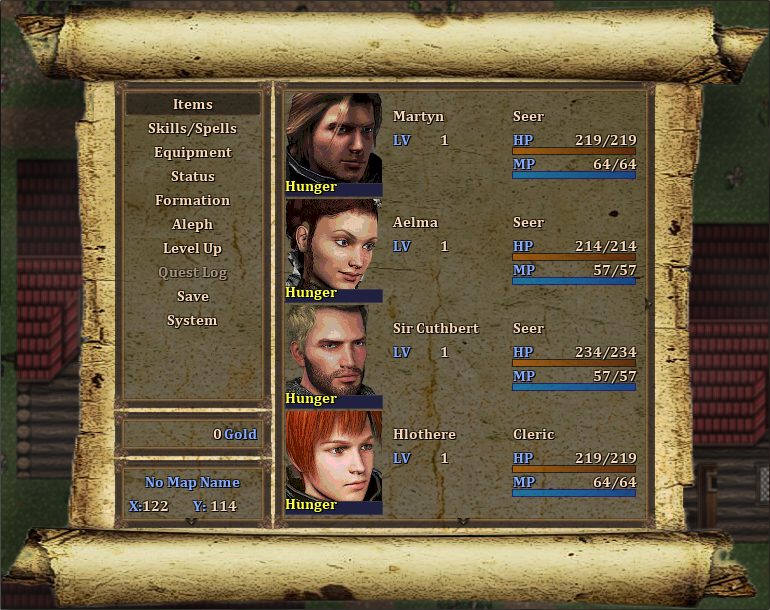 The Item Menu is further along, as you may be able to tell from the various visual elements around the edges of the screen. Each menu has its own theme (or will once finished):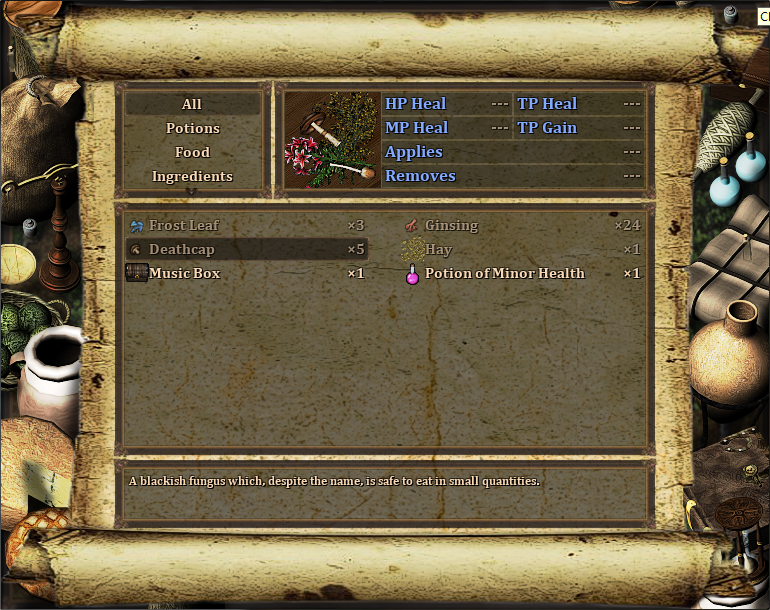 While working on sprucing up the menus, I also upgraded the dialogue/message boxes that appear when talking to NPCs, interacting with objects, and so forth: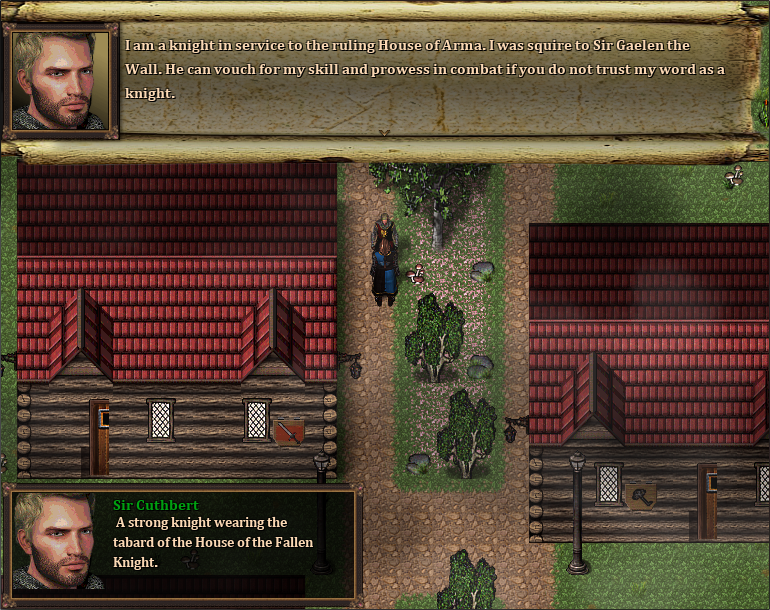 You might be able to tell in the picture above that there is a graphical bug with the doors. I will address this a bit further down in the update.

In addition to upping the visuals for menus and dialogue boxes, I have been able to populate about half of the world with various items. I had to make a dummy project and create templates for each and every item that you can pick up, which is a huge range of items from weapons/armor to potions, reagents, furniture, food, etc. With all of the templates made, I have been able to copy and paste them all over the game world as necessary. I did *just* discover a small bug with a wall clock, where each version of this particular wall clock tends to change its graphic, alternating between a clock, a house plant, and a butter churn, so I have to hunt down the instances of this item and correct the bug.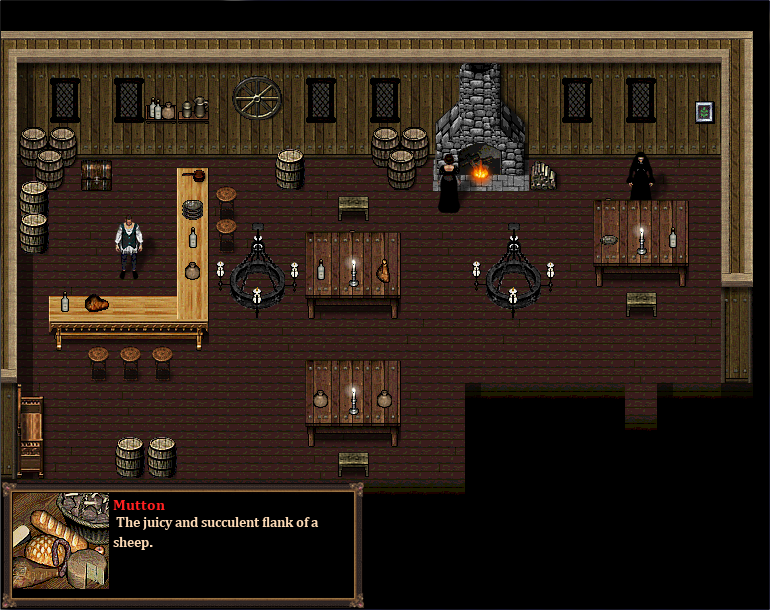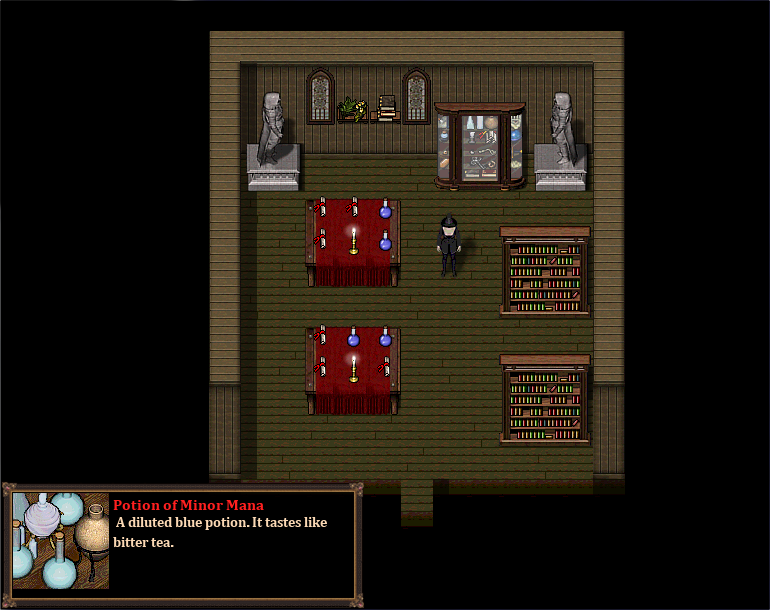 This not only allowed me to populate the towns of the game with items that can be taken (taking items that belong to someone will lower your Principles), but also set up a whole bunch of random camps, ruins, and other nifty things out in the wilds of the world (in which there are a lot):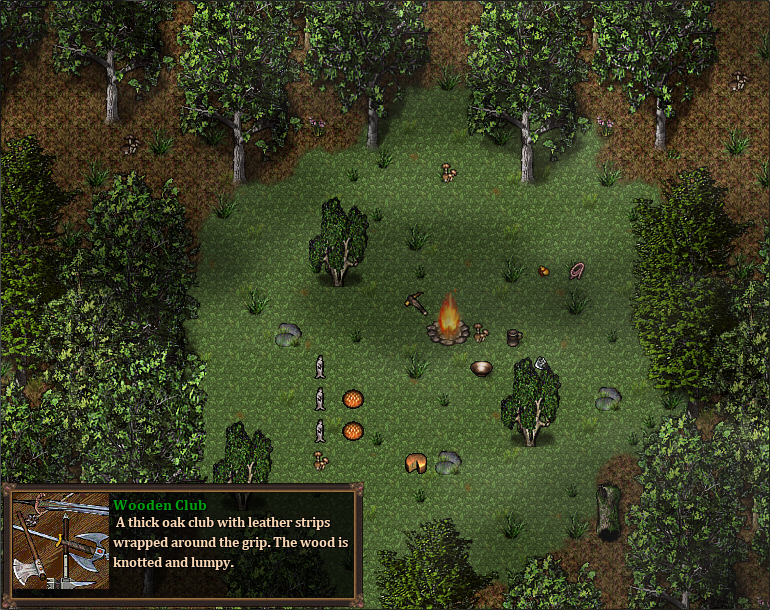 You can expect to come across camps such as this, among many other random things as you venture away from the beaten path.

One neat-o item I added recently is the Music Box. I thought that this would be a cool idea for people who like to collect things. What this item does is allow you to change the music to whatever you want, assuming you have found the necessary music gear for the song. Each song in Aleph is tied to a music gear, and each gear is somewhere in the game world for you to find. Each time you find a gear, it automatically goes into the music box and you can then play that song from the music box any time you wish.


So, what exactly is the hold up with the playable version of the game for KS backers? I will give a brief rundown of the issues that are yet to be quashed. There are more issues than what are listed here, but all issues are divided between High priority and Low priority, with High priority being issues that are preventing the game from being played to completion in some manner and absolutely must be dealt with before a playable version can be released. Low priority items are things that I would like to fix, but if they are included in the playable test version, that is fine, they do not prevent the game from being played to completion. List of High priority items:

*Background images are sometimes being drawn on top of choice/context menus, preventing the ability to make choices.

*Certain background images are being drawn on top of the Main Menu, preventing you from seeing the Main Menu.

*Different sprites with different number of animation frames are being drawn in an incorrect manner (they are being half drawn, like the doors shown above).

*Certain respawnable items, when picked up, slowly drift across the screen.

*Randomly spawned monster encounters are invisible.

*Item Weight is not displaying in the Item Menu, nor does it seem to have its intended effect.

*When reading books, the book graphic is displayed in an incorrect position. This is a result of increasing the game's resolution beyond what the engine originally intended. This is important because there is vital information contained within some books.

*Enemies in combat sometimes appear off screen or in strange locations.

*Game crashes when you try to drop an item onto another item or any spot where a trigger event exists.

The Low priority issues mostly revolve around adding additional information to menus (especially the shop menus), adding additional functionality, adding a leveled spawn list (so you run into new monsters as you get stronger), things of this nature.

A friend of mine has created a cool HTTP processing system which actually works quite well with Aleph. What does this mean exactly? It means I can push/pull information to/from my web server within the game itself. This means that I can create cool little features like leaderboards for you to compare your own progress. An example might be seeing the top 10 people who killed the end boss in the least number of turns (along with the number of turns they took), or see how much gold the top 10 players had when they beat the game, or any other number of measurable metrics. At some point I might make this a part of the Aleph system itself, since you already use it to view a number of things such as locations of items and places, monster weaknesses, etc, so it makes sense you can use it to view your relative progress/accolades compared to other Seers! Personally, I think that sounds cool.


The Wild Steam pack has hit stores (only RPGMaker has it at the moment, but Steam is coming soon - http://www.rpgmakerweb.com/a/graphics/wild-steam-resource-pack), and everyone has nothing but great things to say about it, which makes me feel all warm and fuzzy inside. I worked for about a year on this one pack, going with an idea that I felt was rather unique to this particular sort of resources: modularity, allowing the user to create their own content with ease. As such, I have been working on an add-on pack which contains more equipment/clothing options for characters, along with more machine parts for Steam Machines.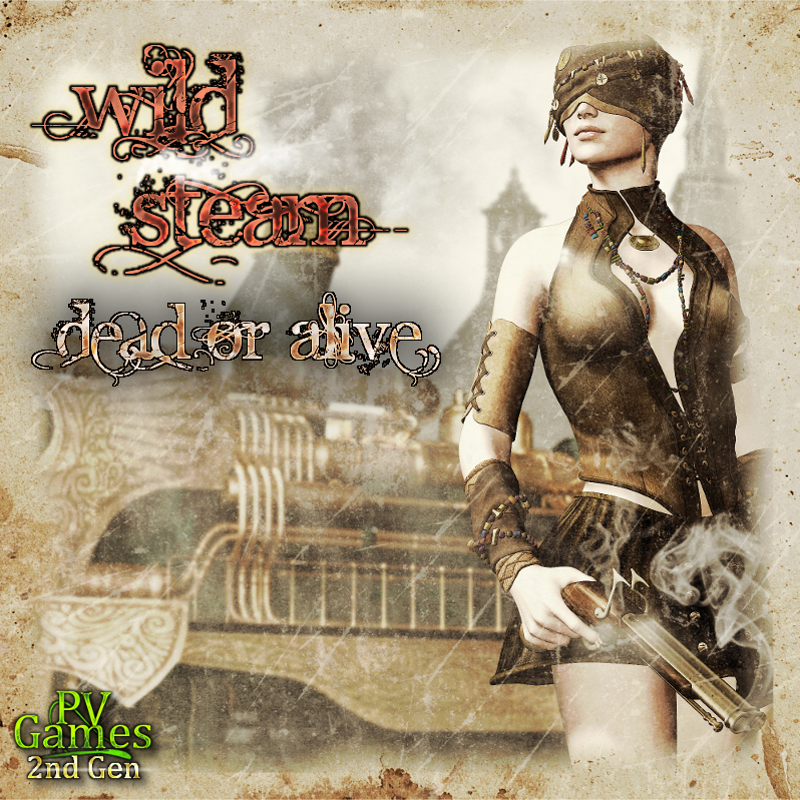 Moving beyond the Wild West/Steampunk genre, I am revisiting Medieval times with the help of Shawn who has been invaluable in helping me with the spritesheets for Medieval themed clothing and armor. I know many people want different genres, but Medieval is without a doubt the *largest* genre for people making games, and it makes sense to get this genre up to date with my 2nd Generation resources before moving on to other genres, like Sci-Fi and Horror.


That's it for now, have a great week!